Witch Orgy to Take Virginity!
The following, rather mysterious article by Virginia Wheeler appeared in the Sun newspaper on 31st October 2006 – with the tabloids' usual immaculate timing.
As regular readers of my blog will know, I don't even celebrate Hallowe'en – so where they dreamed up this mass orgy which I apparently hosted that night, I have no idea. As for being 'sex-mad', well you'd have to ask my wife.
This is not the first time, of course, that I have been accused by the press of holding 'nude orgies'; in fact these sordid accusations have been going on since the 1970s. In 1996 the photograph below appeared equally mysteriously in the now defunct News of the World, accompanied by similar accusations. The continuing attempts by the tabloid press to depict skyclad (naked) Wiccan ceremonies as debauched exploitations of innocent young women really can become quite wearisome. Believe it or not, its a hard life being David Farrant sometimes!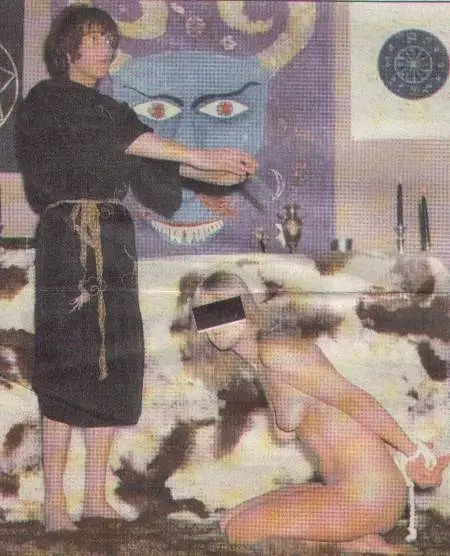 Anyway, back to The Sun. Della wanted to include this article for comedy value really, as she finds it really funny, and no one in their right mind would take any of it seriously.
Would they? Oh yes – they would! Cue hundreds of posts on pagan forums by disgusted Wiccans claiming that I was misrepresenting their religion, in a shameless bid to garner publicity for myself and the British Psychic and Occult Society!
Well I would agree with them and admonish myself suitably, had I actually uttered any of the statements attributed to me in this rather amusing article.
Only, as usual, I did not. ~ David Farrant
Witch Orgy to Take Virginity!!!
A SEX-MAD witch and a 200-strong coven plan to celebrate Halloween tonight — by deflowering a teenage virgin.
Creepy David Farrant boasted yesterday how he will oversee the orgy to initiate the girl into his cult.
The 19-year-old trainee accountant will have full sex with a 30-year-old High Priest chosen by Farrant.
As the teen writhes naked with the stranger on the floor, the rest of the priest's coven drop their robes to watch the display in the NUDE. The 200 onlookers then take part in a MASS-ORGY at a property in Barnet, North London.
Farrant, 56, is High Priest of the British Psychic and Occult Society. He claims to have bedded 2,000 women in similar Wicca religious ceremonies.
He said last night: "Initiating a virgin on Halloween is very important for Wiccans in serious covens.
After the girl has had full sex people are then free to have sex with one another.
But it's not an excuse for a mass orgy – sex is regarded as an essential life force.
It's all done in a private meeting place in Barnet with magical signs on the walls.
This sort of thing has to be done behind closed doors because it is not understood by the modern day public."
Farrant, from Muswell Hill, was jailed for nearly five years in the 1970s for damaging graves and sending voodoo dolls to police officers. His society now boasts 374 members and more than 200 are expected at tonight's bash.
Farrant, who also describes himself as a Vampire Hunter, said in past years up to three women were initiated at the same time.
He added: "These girls are mainly students or people who have left school and are disillusioned with life. They are all over 18 and we don't initiate them if we believe they are just coming along for the sex."