Paul Adams: 'Written in Blood' Book Launch
I was very proud to be asked to give an opening speech and a short interview for the launch of author Paul Adams' 2014 work Written in Blood : A Cultural History of the British Vampire in July 2014.  I first met Paul in early 2012, when he approached me for help with his chapter on the Highgate 'vampire'.  It is very rare for me to endorse a publication which attempts to tackle this complicated subject – most authors have a tendency to rehash earlier accounts which are in themselves riddled with inaccuracies. 
However Paul's sincerity and objectivity with regard to his research, and his determination to uncover the truth – at least, as much as can be uncovered when dealing with an undefined supernatural incursion – struck me from the outset.  The final chapter is the best account I have read of the events surrounding this case, and I would heartily recommend it to all fans of the Highgate legend, and of popular vampire culture in general.
Paul's passion for his subject matter was cemented in his childhood, when he and his late father would watch Hammer Horror movies together.  With a nod to this early influence, part of Paul's launch included a talk-through of some clips from vampire movies over the decades, which was very enlightening as well as fun.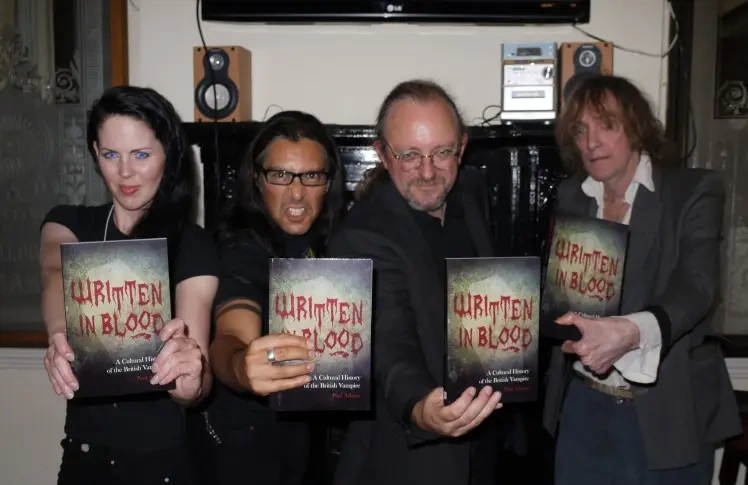 The launch went very well, and had a great attendance with representation from The Ghost Club, The Society for Psychical Research, The Highgate Cemetery Vampire Appreciation Society, The British Psychic and Occult Society, The Spooky Isles, and London Haunts and Horrors, as well as many fans of the gothic and vampire genres. B.P.O.S. cameraman Dave Milner attended and filmed the event for those who could not make it, and you can watch the video below.  Thanks to Lorcan Maguire for keeping an eye on the recording equipment.
UPDATE: You can read a review of Written in Blood on The Spooky Isles website here.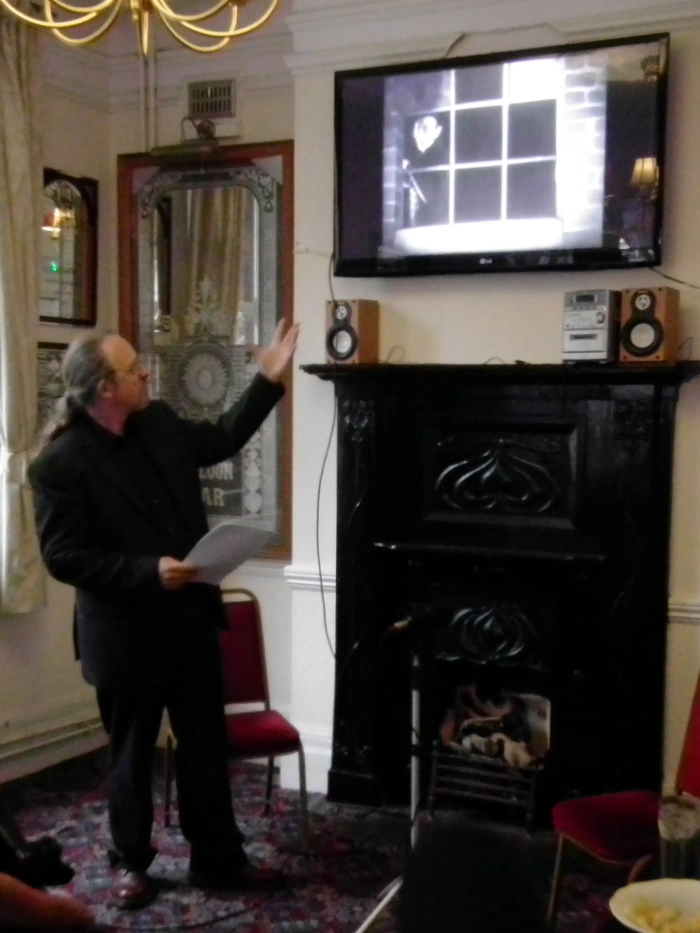 Paul Adams and David Farrant in conversation.
Spooky Isles Podcasts with Paul Adams and David Farrant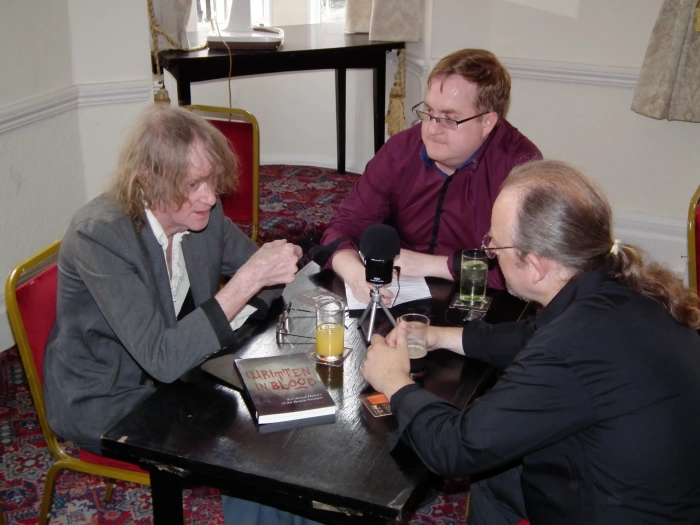 Prior to the launch Paul, David Saunderson and myself recorded a podcast for The Spooky Isles, wherein we discussed the book, and some of the B.P.O.S.'s research into lesser known cases.  This was scheduled to be hosted by Jon Kaneko- James, but as Jon had to attend a wedding in Wales that day Paul stood in for him at the last minute.  Paul made a great interviewer, and you can listen to the broadcast here.  Paul has also recorded his own podcast with David, devoted to Written in Blood, which can be heard here.