Pendle Witch Camp Keynote Speech
WHEN: June 2012
AT: A field near Pendle Hill!
FOR: The Pendle Witch Camp festival organised by Ade Lord.
In 2012 I was invited to attend the yearly Pendle Witch Camp in Lancashire.  That year's camp was especially significant, as it commemorated the 400th year anniversary of the execution of the eight Pendle women who were hanged for practicing witchcraft back in 1612.  I was asked to give a Talk to discuss my own modern day Witchcraft Trial, which took place in 1974. 
As the keynote speaker, I did feel a burden of responsibility to highlight the fact that the persecution of these innocent 'cunning women' was not an anachronistic sequence of events, merely indicative of the ignorant attitudes of its time.  Sadly it has parallels in the late 20th  century in my case, and in the modern age on a global scale, both in developed and third world countries where the perceived threat of witchcraft still results in legal trials – or in some cases much less 'civilised' 'justice' at the hands of the mob.
David Farrant's Interview with Tania Ahsan (launches a playlist)
It is of course a very involved subject; but many people from all different cultures – from the UK to the USA, or from European countries to the dark reaches of South America and Africa, and even Australia – indeed support the persecution of witches today, and the main purpose of my Talk was to remind people of this point.  In our so-called religious and (be these concepts strange bedfellows) progressive societies, people are being murdered every day for their actual or perceived beliefs, and the persecution of modern day 'witches' in Europe (the correct term is Wicca), pagans, or perhaps to put it more succinctly 'new age thinkers', still goes on today.
And such was the purpose of me attending the Pendle Witch Camp.   It was organised by Ade Lord, and he had booked several other speakers to speak at the camp over a three day period, on various aspects of magic, paganism and the occult in general.  I was interviewed by Tania Ahsan; a journalist who had previously interviewed me in 2007 for The Metro newspaper.
The Talk went well – despite the intrusion of heavy rain upon the marquee, which forced me to say at one stage, 'I think we might be being invaded by "Black Magical forces"'!  I was just trying to lighten the situation a little, as it was very wet and windy there in the heart of Pendle country.  Please forgive any audio deteriorisation in view of the lack of anticipation of a couple of heavy downpours.  We have tried to alleviate this with the use of subtitles where possible.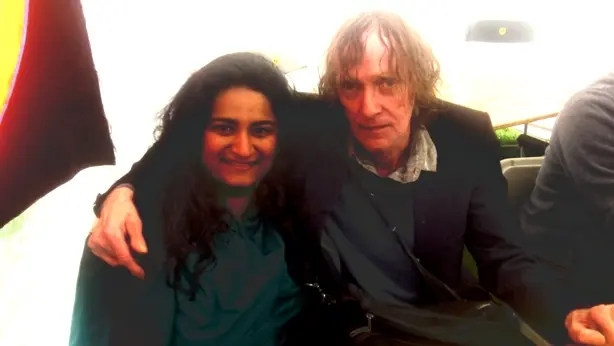 Talk successfully accomplished (despite two of our cars being 'stuck in the mud' – literally – ) we all made it back to the hotel with just dinner in mind!  Anyway, I hope people who were not able to be there enjoy the stills and video footage.